The National Work Zone Safety Awareness Week (NWZSAW) is a campaign that takes place every April to shine a spotlight on the importance of safe driving and risk management for roadway work zones.
This year, the NWZSAW is hosted by the Missouri Department of Transportation from April 17 – 21, 2023, with the theme of: "You play a role in work zone safety. Work with us!"
At Mod Advisor we want to encourage safety and reducing work place injuries, so that is why we want to bring some light to this annual campaign.
What is Work Zone Safety Week
The Work Zone Safety Awareness Week is a collaborative effort to raise awareness about work zone safety. The first one kicked off in April 2000 in Springfield, VA.
Since then, the week has been coordinated by the Federal Highway Administration, the American Association of State Highway and Transportation Officials, and the American Traffic Safety Services Association.
Each year, there is a new host and theme – many states host their own additional events as well.
The 2023 week includes the following events: You can check out the event calendar, here.
Work Zone Safety Training Day – April 17
National kickoff event – April 18
Go Orange Day – April 19
Social media storm – April 20
Moment of Silence – April 21
The Importance of Work Zone Safety
Work zone incidents result in large numbers of injuries and fatalities. Research has shown alarming statistics:
In 2020, 857 people were killed in fatal work zone crashes
There were 44K estimated work zone injuries in 2020
64% of highway contractors reported crashes in their work zones in 2022
Here is a graphic with other facts from the National Work Zone Safety Information Clearinghouse.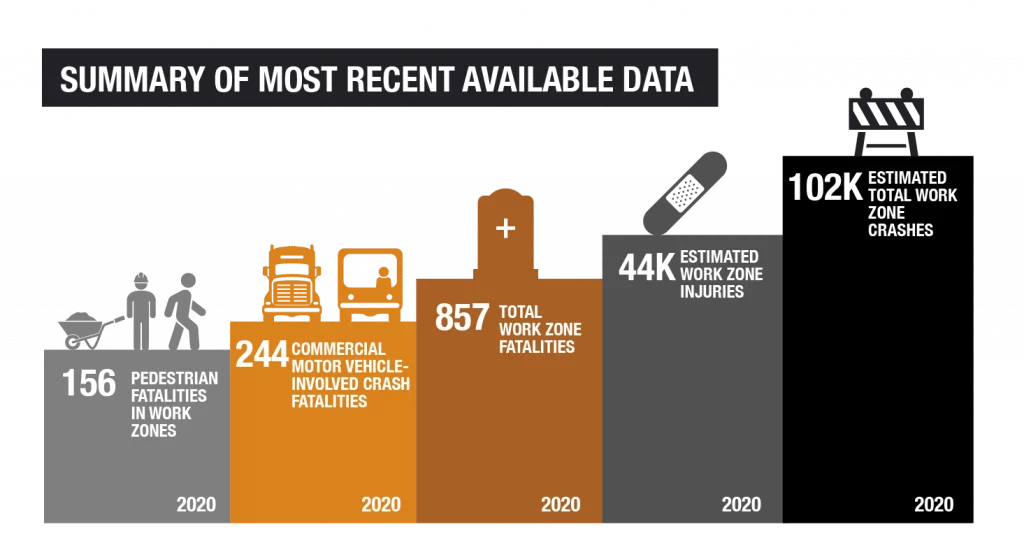 The rising number of accidents makes awareness more critical than ever and action needs to be taken to prevent future injuries and deaths.
5 Tips for Construction Safety
The National Work Zone Safety Awareness Week emphasizes what motorists can do to lower their risks of getting into a roadway work zone accident. However, there are also steps a construction company can take to keep workers better protected.
1. Ensure Workers Have Proper Safety Equipment
All personnel inside the work zone should have the proper protective equipment, such as steel boots, hard hats, and hearing protection.
2. Go Orange
High visibility clothing is critical to helping motorists see workers. Your workers should be wearing high visibility gear: either bright fluorescent orange or lime/yellow clothes. The clothing also needs to contain visible reflective material and meet ANSI Class 2 or 3 standards.
3. Control traffic
You should establish warning signs in an advance warning perimeter so that any drivers will be alerted of an upcoming work zone. You can control traffic using orange cones, barriers, barrels, or signs. Remember to comply with any state agency or organization requirements as well.
4. Create Site-Specific Safety Programs
While many construction work zones share similarities, it is still a good idea to create site-specific safety programs that are designed with each work zone's unique risks and hazards. Ensure that your work zone has identified hazards, hazard control routines, safety training schedules, first aid planning, and equipment inspections.
5. Train Your Workers
A training program should be required for all your employees. Each worker should understand any safety protocols, procedures, and plans that are in place and how to follow them. The training should include equipment training and hazard recognition. Doing regular tool box talks can also help keep safety top of mind.